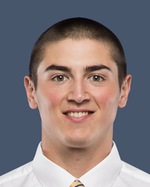 AJ McLaughlin enters his fourth season as the defensive line coach at Husson in 2020, while also holding the position of Special Teams Coordinator. In addition, McLaughlin serves as the Event Management Coordinator and the Director of Intramurals at Husson.
McLaughlin's leadership was evident this past fall as the Eagles' produced multiple All-ECFC defensive lineman for the sixth year in a row as sophomore defensive end Frank Curran earned a First Team nod while senior defensive tackle Tarik Smith and sophomore defensive end Derek Barden received Second Team recognition. Barden and Curran finished the season in a tie for the fifth most tackles on the team with 46, while Smith slotted right behind them with 41. They combined for 35 tackles for loss (-150 yards), 18 sacks (-107 yards), five forced fumbles, a pass breakup and a fumble recovery in 2018.
2017: McLaughlin served as the tight ends coach in 2017, coaching a group of tight ends that was an integral part of the offense that helped the Eagles post a school record 10-2 overall mark, a perfect 7-0 in ECFC play for the third time in the last four seasons, and capture back-to-back ECFC Championships for the first time in program history, clinched the first national tourney win in team history and to break into the national rankings for the first team in the HU football history.
The tight ends were led by All-ECFC First Team selection DJ Allen, who finished his senior campaign with the most catches (32) and yards (292) by a tight end in a single-season and was a highly effective blocker, helping to set the edge for All-American running back John Smith.
Overall, Allen left Husson as the school leader in every category among Eagle tight ends, including receptions (66), yards (595), games played (37) and ranked second in touchdowns (6).
Prior to joining the Eagle coaching staff, McLaughlin was a four-year letterwinner as a member of the Husson football team as a tight end and a special teams player from 2013-16. He excelled on kick coverage, specializing on big hits on kick returners to help minimize kick return yardage. In 18 career games, he made three tackles, including two solo tackles, and one fumble recovery.
McLaughlin helped guide the Eagles to a 29-12 overall record with three ECFC Regular Season titles in 2014, 2015, and 2016, two ECFC Championships and berths to the NCAA Division III National Championship Tournament in 2014 and 2016, while helping the 2016 team set the program record wins in a single-season with nine.
Off the field, McLaughlin was named to the ECFC All-Academic Squad in 2014, 2015, and 2016 and to the National Football Foundation (NFF) Hampshire Honor Society in 2016.
McLaughlin earned a Bachelor of Science in Sport Management and a Master's Degree in Business Administration from Husson in 2018.
A native of Dexter, Maine, McLaughlin attended Dexter Regional High School.